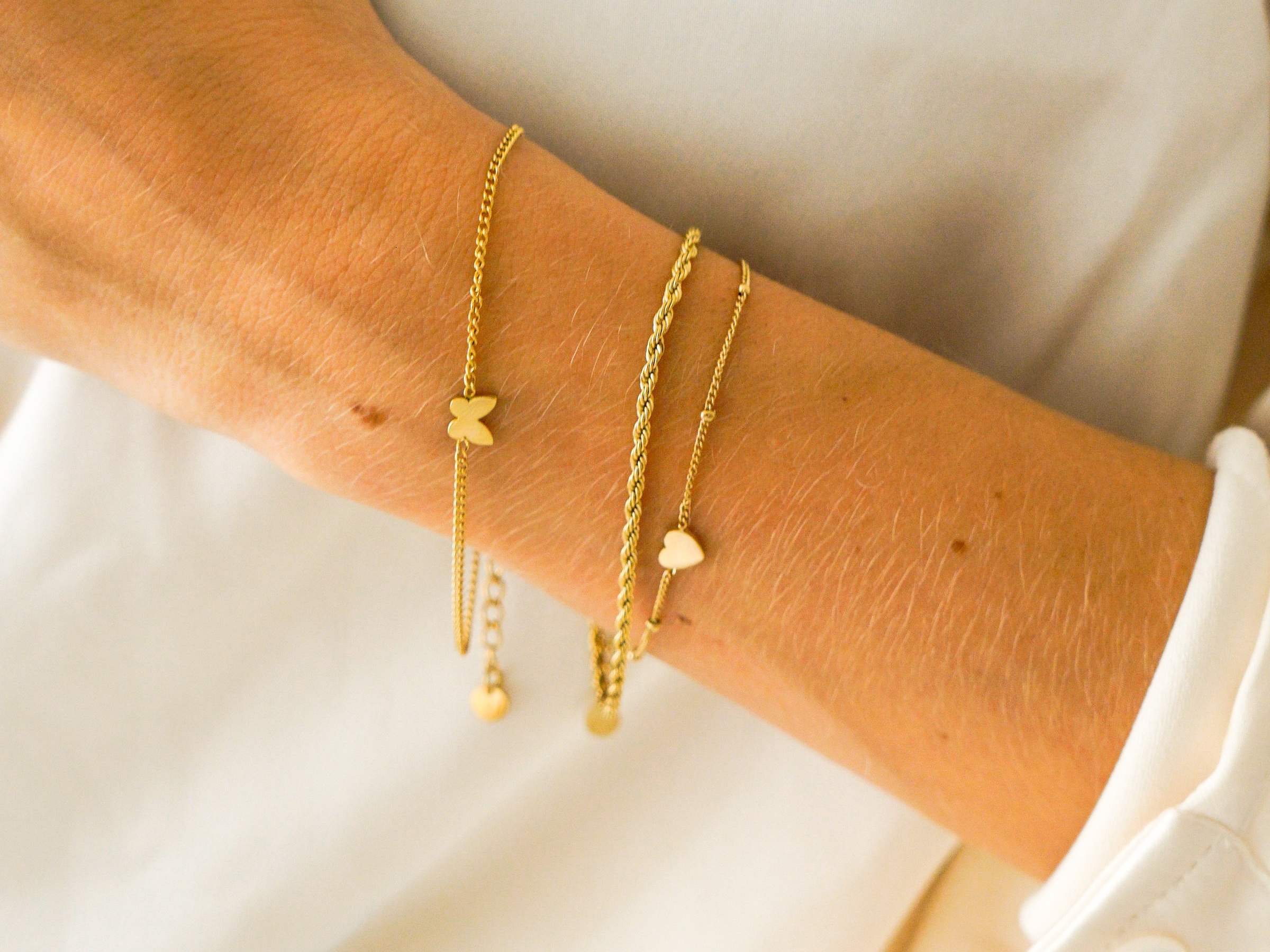 Does the jewellery discolour or does it stay beautiful forever?
It's a frequently asked question: of what materials are the jewellery of Essentialistics made? All our jewellery items are made of the same material, namely stainless steel. Yes, that's a good reason for a little celebration - because it doesn't get any better than this!

Stainless steel doesn't discolour
Stainless steel has so many advantages. Let's start with the best advantage of this material: it doesn't discolour! Not even the golden ones! A vacuum coating process (called PVD) is used to achieve the golden colour. This process leads to an extremely durable coating. You probably have had some beautiful jewellery items in your life that were discoloured in no time. Not even to mention the items that left a dark colour on your skin. Those problems belong to the past when you go for our jewellery!

Waterproof jewellery
Another nice extra is that it isn't necessary to remember to take off your jewellery in the shower, when you go sporting or when you go to bed. The jewellery is waterproof, so water, moisture and perspiration have no influence on the jewellery item. No need to stress about that anymore!

Suitable for people who are allergic
Did you know that stainless steel was originally used for earrings, especially for freshly pierced ears? Stainless steel is a great material for this since it has an extremely low rate of allergic reactions. It's hypoallergenic and therefore suitable for people who have an allergy to other materials. However, it's never 100% certain that you won't be able to get an allergic reaction, but the chance with stainless steel is many times smaller than with other materials. And what's also good to know, all our jewellery is nickel free. So even if you have a nickel allergy, you can wear our items safely!

Stylish and affordable jewellery
Nowadays stainless steel is seen as a modern and very stylish material. Jewellery made of stainless steel is very popular, especially because they look pretty expensive, but the price is actually really do-able! This makes our jewellery really well priced. Definitely a big plus for you as well!

Scratch resistant, extremely strong and yet light material
Another big pro is that stainless steel is harder than silver, so the jewellery can't get scratched quickly. It's also very strong and therefore it doesn't easily break. Although a little caution can never hurt! Especially when you're doing intense work.
Stainless steel is also a very light metal, so it's easy and comfortable to wear. Primarily important for earrings, definitely when you wear multiple ones together.

Sustainable
And besides all the good stuff we already told you, there is even more. Did you know that it's the most environmentally-friendly metal option in the jewellery industry? It's 100% recyclable and the energy that is used and wasted during the process is dramatically less than in other metals used for jewellery.
So stainless steel is the only way to go for us from now on. What about you?